Staub Stackable - all under one lid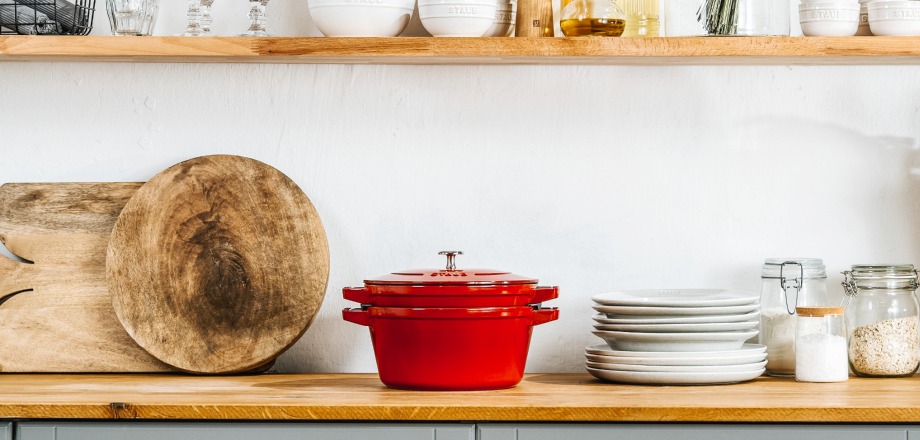 Introducing the new STAUB Stackable!
STAUB STACKABLE - EVERYTHING UNDER ONE LID
The STAUB Stackable cookware set made of high-quality cast iron contains everything you need for cooking. It is a space-saving companion for all occasions. It will prove its qualities when cooking. It is ideal for any menu to suit your mood and is so design attractive that it looks great on the table too.
THIS SET, C'EST MAGNIFIQUE
STAUB Stackable is a space-saving cookware set that includes essential utensils for all types of cooking. It's cleverly designed with characteristically bevelled walls that allow for easy stacking, making it fit neatly into any storage space, including shelves, cupboards and pot drawers.
AESTHETICS FOR MINIMALISTS AND MAXIMUM ENJOYMENT
Are aesthetics and functionality important to you? The STAUB Stackable set offers both. With this set made of high-quality cast iron, you can serve a large menu from a small kitchen. Whether you roast a steak, braise a stew, caramelise onions, steam vegetables or pasta, or even bake a cake with it.
LITTLE SPACE, MANY POSSIBILITIES
Cocotte pot, pan and lid in one set. And if you want, the set of 3 also comes with a baking dish. This is the STAUB Stackable range: One fits inside the other. Stacked on top of each other and matched to each other, they can be brought to the stove in one go. Develop their cooking and serving skills.
Discover the STAUB Stackable two-piece or three-piece stackable cast iron cookware sets, available in cherry, black and truffle white.