Easter is coming, get ready for the spring holidays!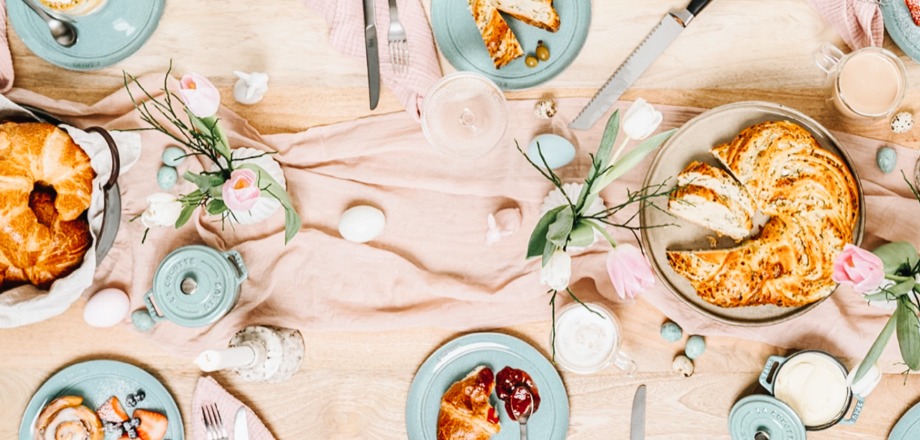 Easter is approaching, get ready for the spring holidays!
From great Easter gift ideas to everything you need for your Easter baking, welcome to the Easter world where many colourful surprises await you. Be inspired and enjoy a wonderful Easter with your loved ones.
Easter is the most important Christian holiday, but it is not as strongly associated with gifts as Christmas. If the two do connect for you, take a look at our Easter range and discover great products that are also suitable as Easter gifts. As well as kitchenware, cutlery, casserole dishes and glasses, you can discover even more.
Our Easter World offers a wide selection from all product areas. Parents, grandmothers and grandfathers will always be delighted with accessories, dishes or glasses for a lavishly decorated, festive Easter table. With pans, baking dishes and cast iron pots from STAUB you can conjure up an Easter roast, arrange it beautifully and serve it straight away. Bring some colour into your kitchen with the cast iron Cocotte pots from STAUB in fresh sage.
From colourful Cocotte pots to high-quality pans, baking dishes or teapots and much more, you'll find many beautiful gift ideas HERE.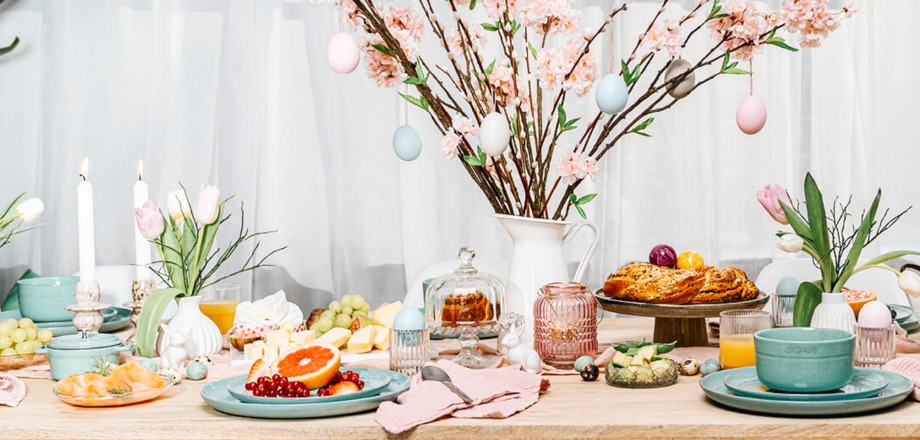 Sometime in the middle of spring it's time again: the Easter baking is here! If you haven't gotten your hands on a dough spatula or cookie cutters since Christmas, you may be anxious to get started. And we have the best Easter baking helpers on offer for you.
What's the first thing that comes to mind when you think of Easter? The Easter bunny, of course, the typical representative of Easter customs. Eggs (especially in chocolate and biscuit form) and other animals (sheep or chicks) or flowers are also very popular. All baked products are characterised by their fresh, natural colours.
One of the stars of every Easter bake is the biscuits. Easter bunny-shaped biscuits, which are quick to prepare and then quick to eat, are always very popular. Not least because they are easy and quick to prepare. The main ingredients are the usual "suspects" like flour, sugar, eggs and butter, the baking time is less than fifteen minutes and you can decorate the finished Easter bunnies with all sorts of decorations or sweet sugar icing. This will make Easter baking with the kids great fun!
HERE you will find the products with which you can master the classic delicacies for the spring holidays in no time.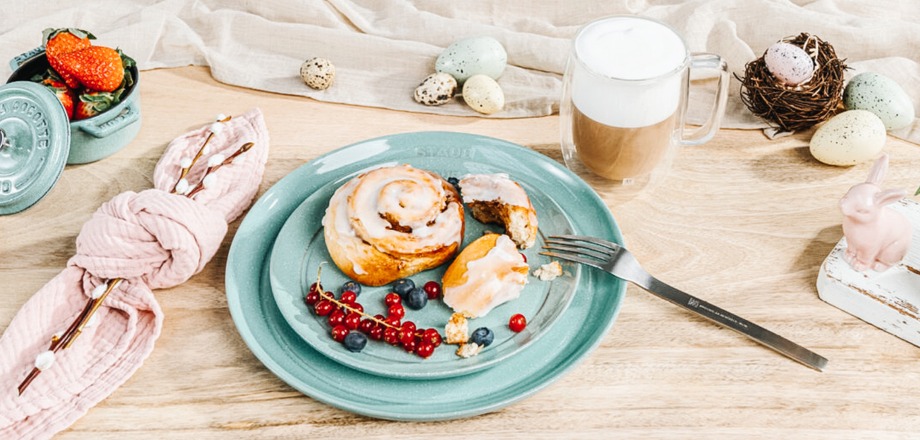 If you want to create a beautiful atmosphere and prepare a decorative Easter table, we have the right products for you in our Easter offer. And we also have some great decoration ideas for a beautifully set Easter table. Included here are typical elements for every dining experience, such as plates, bowls or mugs. However, we also offer plenty of options for cooking, baking and serving such as the ceramic Mini Cocotte from STAUB. Take a look and choose something that matches your taste and your idea of a beautifully set Easter table!
But what nature offers us at this beautiful time of year is also worth it. Easter bells, tulips and daffodils grow and bloom in many places and show themselves in their full glory. This is one way in which the Easter table can be decorated and inspired. Other inspiration can be: hyacinths, lush green leaves, moss or blossoming twigs.
What about an Easter egg? The Easter egg is still missing from a beautifully set Easter table. A classic that you can hide for the children not only in the garden, but which should also be on the Easter table. Here you can combine the fun of preparing Easter with the decorative aspect on the Easter table. A few days in advance, you can blow out the eggs, paint them with colours that match the decorations and then spread your artwork on the table for the festive meal.
Find everything you need for a festive Easter table setting HERE. Crockery and cutlery, beautiful pastry bowls or small delicacies - discover everything you need for your Easter celebration and dining! Your Easter feast is guaranteed to be a success.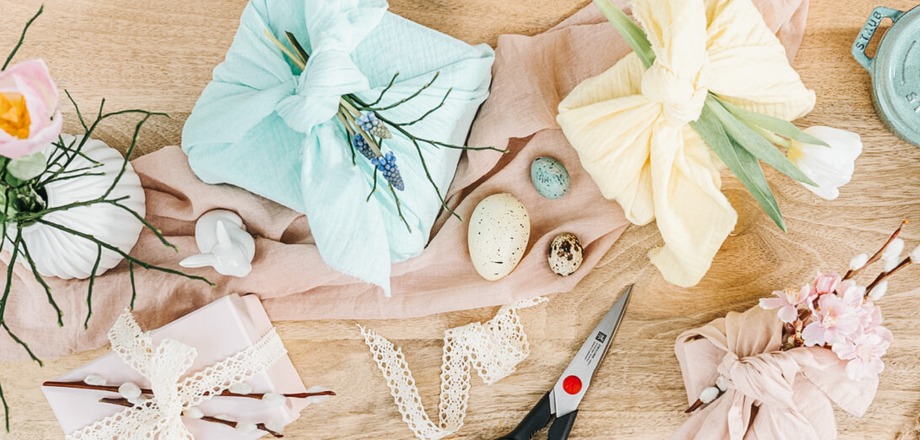 Whatever you choose, gift wrapping is also important. It may not be Christmas, but a beautiful gift wrapping will be nice in spring. With paper and ribbons - just like on the Easter table - nice, bright pastel colours are the order of the day. Green, pink, blue or yellow signify the awakening of nature and good cheer. We wish you beautiful spring days!